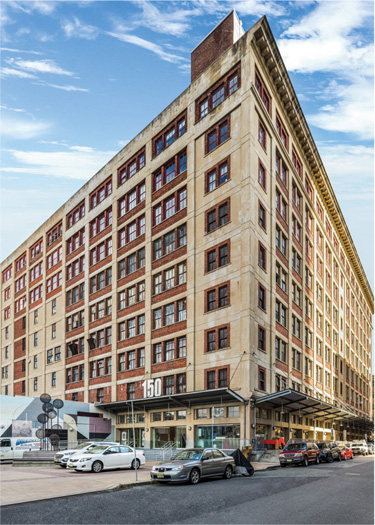 Located in the Powerhouse Arts District of Jersey City, just minutes from Manhattan by train or ferry, 150 Bay Street is the embodiment of the luxury loft experience.
A landmark building listed on the Federal Register of Historic Places, 150 Bay was built in 1908 as a warehouse by the architect Howard Chapman. Converted to residential, commercial and retail spaces in the 21st century, the building is truly a mix of historic and modern architectural details.
Large, open floor plans, 14' high ceilings, oversized windows, and polished concrete floors are just a few of the things that distinguish 150 Bay Street as a premiere luxury loft community.
Staying in? Fully equipped kitchens with granite counter tops, brand new appliances and a 10,000 ft2 roof deck all help to complement spaces that are ideal for entertaining. Stepping out? 150 Bay Street is surrounded by a neighborhood filled with restaurants, bars, shops and galleries.
So, if you are looking for a desirable alternative to Manhattan, look no further than 150 Bay Street in Jersey City. It's all that you'll needed for a truly modern, luxurious and convenient lifestyle.
The abundance of space makes it an ideal environment to define and redefine your needs. It's the perfect opportunity to fulfill the multipurpose needs of a multipurpose lifestyle, and the amenities help complete the package by enabling a truly modern, luxurious and convenient existence. These are the perfect spaces to entertain, refine your craft, and thrive!
Amenities Include:
Historic Details
Concrete floors
14′ high ceilings
Oversized windows
Stainless steel appliances in fully equipped kitchens
Granite counter tops
24 hour fitness center
24 hour concierge services
10,000 sqft rooftop deck
Live in Super